SERVICES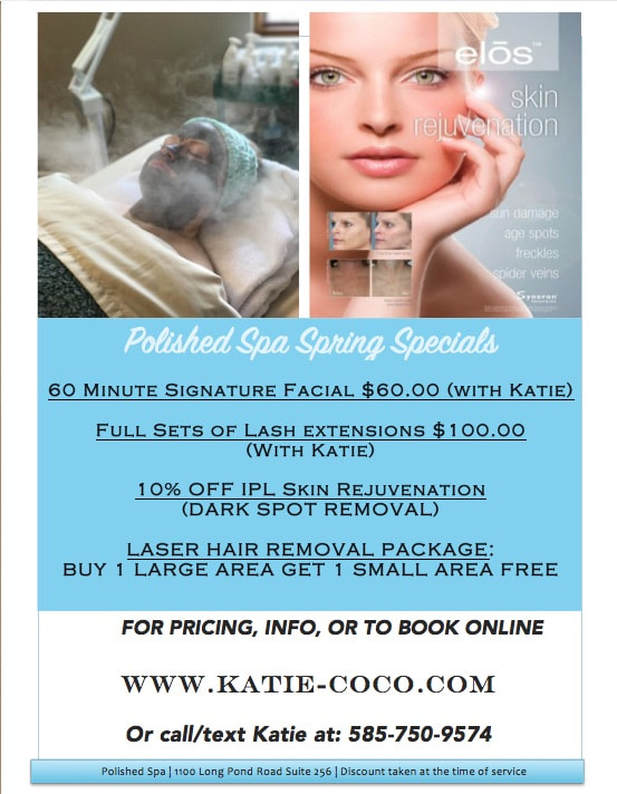 ---
MAKEUP

MAKEUP APPLICATION...$55
MAKEUP WITH LASHES...$65
MAKEUP LESSON...$75
MAKEUP TRIAL..$65
​BRIDAL MAKEUP... starting at $75
(Trial and Travel Fees May Apply)

LASHES

CLASSIC SET...$125
​1 Week Touch Up...$28
FILL (2 weeks)...$45
FILL (3 weeks)...$60
REMOVAL...$30
WAXING

LIP... $12
BROWS... $15
CHIN... $15
FACE... $25
​BACK... $38





UNDER ARMS...$25
HALF ARM... $28

FULL ARM... $40

HALF LEG... $50

FULL LEG... $70



---
FACIALS
Refresher Mini facial $45/35 minutes
Want the luxury of a full facial, but don't have the time? This is a customized facial featuring the "Dermalogica double cleanse," exfoliation, mask, & daily protection. It will have your skin looking polished in no time!

Signature Facial $75/60 minutes
Want the ultimate relaxation treatment with accelerated polished results? This customized facial provides the time for Katie to get to know your skin through a thorough skin analysis, and treat its needs. Begin with a Dermalogica double cleanse under steam, followed by your customized treatment and mask.

Cleansing Back Treatment $65/40 minutes
Relax under steam while your back, neck, and shoulders get the polished treatment!

AGE SMART facial $85/60 minutes
Are the signs of aging becoming more visible on your skin? Give it a revitalizing power boost with this treatment designed to nourish, regenerate and energize skin. Potent vitamin and hydroxy acid exfoliation resurfaces and retexturizes skin for the ultimate in skin therapy for prematurely-aging, mature or devitalized skin. Firmer, smoother, polished skin is yours with this amazing treatment.
IPL SKIN REJUVENATION
​Full Face ...$250, (3)...$675
Neck ...$250, (3)...$675
Décolletage ...$250, (3)...$675
2 Areas...$400, (3)...$1080
3 Areas...$600, (3)...$1620
SUBLATIVE SKIN RESURFACING
​Full Face ...$300, (3)...$810
Neck ...$300, (3)...$810
Décolletage ...$300, (3)...$810
2 Areas...$450, (3)...$1215
3 Areas...$650, (3)...$1755
IPL Rejuvenation & Sublative Resurfacing
Full Face ...$500, (3)...$1350
Neck ...$500, (3)...$1350
Décolletage ...$500, (3)...$1350
2 Areas...$800, (3)...$2160
3 Areas...$1125, (3)...$3038
LASER HAIR REMOVAL
---

Facial Areas/Small Areas
Upper Lip ... $45..(6) $243
Chin ... $45..(6) $243
Sideburns ... $45 .. $243
Feet & Toes...$55 ..$297
Fingers & Hands ...$55 ..(6) $297
​






---

Women's Body Areas
Basic Bikini...$100 .. (6) $540
Bikini Plus ...$125 .. (6) $675
Brazilian Bikini ...$175 .. (6) $945
Underarms...$85 .. (6) $459
Forearms and Hands...$125 .. (6) $675
Full Arms...$200 .. (6) $1080
Hairline Trail...$50 ..(6) $270
Lower Back..$80 ..(6) $432
Upper Legs...$175 ..(6) $945
Lower Legs...$150 ..(6) $810
Full Legs...$300 ..(6) $1620
​